Guest Designer Marni for H&M
WHO?
MARNI is an Italian fashion label founded by Consuelo Castiglioni in 1994
A label featuring an eclectic range of accessories with exotic embellished prints recognized on and off the runway as sophisticated chic.
Today is the launch of MARNI's new collaboration with H&M featuring gorgeous ready to wear pieces ranging in luxe metallic printed tops to silk chiffon dresses. What makes this collection even more remarkable are the accessories that range from bold statement collars, plastic petal necklaces and clip on earrings with plastic/lucite material. The prints are extraordinarily crafted with silk-like threads and a colour scheme of lilac with gold accents.
Butt of the queue because I didn't receive any band...
Raking in my loot!
It was utter chaos in the stores, no wristbands meant all the 'top-picks' or 'must-haves' were out of the question.
Lookbooks by Josh Olins
The abovephoto was the photo that made me fall in love with the collection. The use of leather with softer jersey material is both athletic and refreshing. How amazing are those PJ bottoms?!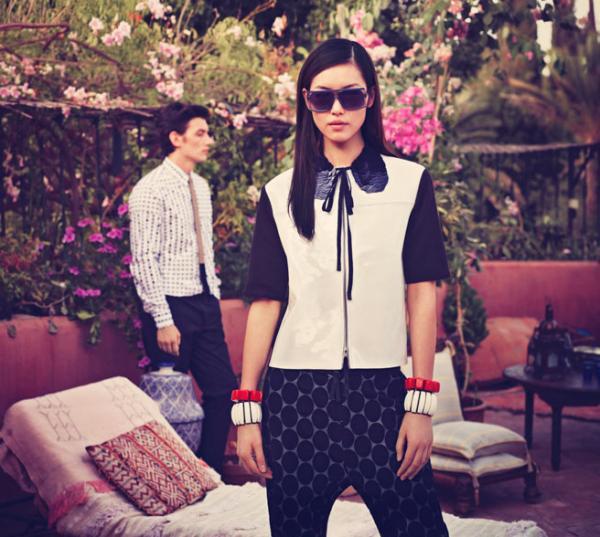 Photography directed by
Harris Savides with Sophia Coppola.
The brief was to introduce a romantic sun-basked element to the photographs. I love when photographers use this type of lighting, natural, warm and ethereal.
I was really lucky to be able to snag this from the rack! This white leather pleated jacket was part of the featured look for the ad campaign of MARNI for H&M.
Sooyoung from SNSD (Korean Girl Group)


Sophia Coppola's outfit for the launch party
I didn't think I would like this top but .. when the sun hits this baby, it literally glows!
Great addition to my wardrobe (:
Freida Pinto wearing Marni for H&M
Not going to lie, I don't love this dress. In fact I found myself struggling to even pull a look together. With that difficulty in mind this will probably in the 'return' bag.
I used a belt to try and "save" the dress but really its just akward.
Oh hello statement earrings! If your reading this Lani, I got a pair for you as well ;)
They are so whacky but definitely fun to wear!
I picked the next 2 pieces up from the Men's section, which is not sup rising since I have this weird habit of buying mens knits/shirts and beanies. I don't know what's wrong with my either..but it's so soft...
These photos were all taken while I was trying the pieces I gathered from this morning... hence the tags still on!
Silk skirt is getting returned as well, the fabric was too flimsy/sheer (silk) for my liking and the length was too long.
The tag on this particular t-shirt states:
I loved the printed tee anyways so I picked it up before I even read the tag, but the moment I turned the tag around I smiled knowing I was not only supporting an amazing designer but I was supporting an even greater cause.
Feel good fashion.

This was an amazing collaboration as mentioned throughout this entire post, the quality of the materials, the craftsmanship and overall appeal is just through the roof. If you haven't qued, or checked out your local H&M yet, I reckon you go after reading this.

Go
NOW.
« Older posts
Newer posts»
<> Copyright ©. Layout by OhMissLinda.
Please view with Google Chrome in a screen resolution of 1280 x 800.
Picture from: All rights reserved 2011 - Infinite.